Global business conditions continued to improve through October although the rate of improvement slowed a bit as pandemic concerns increased (Chart 1).
Electronic Equipment Shipments Recovering
Third-quarter world electronic equipment shipment growth showed a big improvement over the second quarter but was still down an estimated 1.4% compared to the same quarter in 2019 (Chart 2).
Based on regional electronic equipment shipment data, October 2020 sales were up 3.5% versus October 2019 and up 6.1% sequentially versus September 2020 (Chart 3). As the traditional autumn busy season winds down, the key impediment to a strong recovery is the rising COVID-19 infection rates, especially in the United States and Europe. The world awaits the deployment of a much-needed vaccine.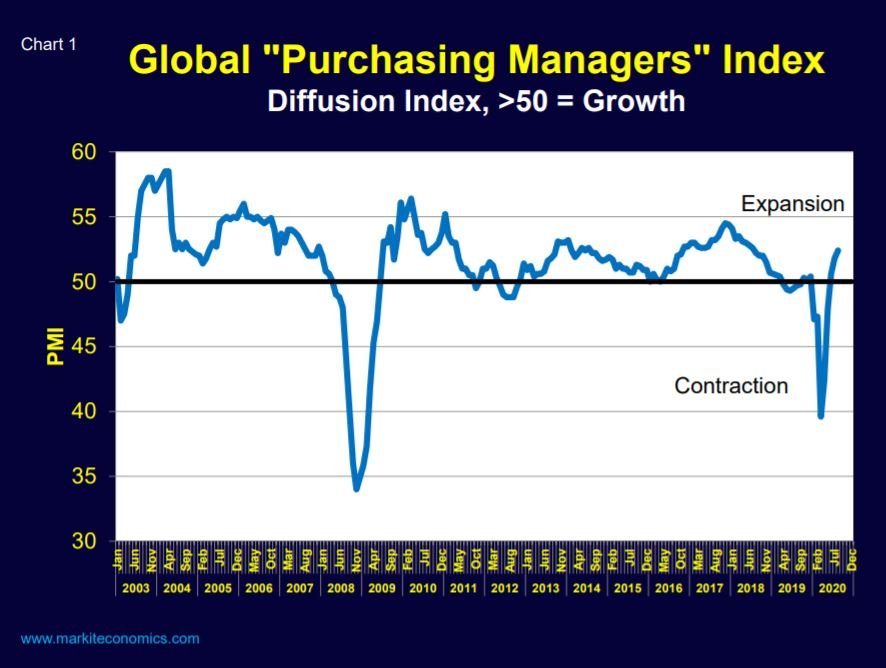 Semiconductor Growth May be Ebbing
Semiconductor chip shipments continue to increase but their global rate of growth has leveled off to mid-single digits (Chart 4). Wafer foundry sales growth also appears to be peaking (Chart 5), pointing to slower chip growth in coming months.
SEMI Equipment Shines
Semiconductor capital equipment shipments continue to outshine both electronic equipment and semiconductors. Third-quarter 2020 SEMI global sales were up a whopping 31% compared to the same quarter in 2019 and up 16% versus the second quarter of 2020 (Chart 6). SEMI equipment shipments are definitely outpacing semiconductors on a 3/12 growth basis (Chart 7).
SEMI Outpaces Electronic Supply Chain
Global electronic supply chain growth is improving but the semiconductor sector is clearly the winner this autumn (Chart 8).
Looking Forward, Pandemic Spread is Biggest Worry
Business conditions definitely look brighter. Even stronger growth is likely if we can get COVID-19 under control.
Walt Custer of Custer Consulting Group is an analyst focused on the global electronics industry.